Gatchaman's "Revenge! The Whale Operation"

BOTP Episode: A Whale joins G-Force







City lights and the night stars reflect on the surface of a harbor. On board a ship, two senior members of the crew are at the helm. One notes that the crew is sounding rowdy, but the other is certain they're just eager to be ashore soon, as they've been at sea for a long time. However, numerous sailors are all gathering excitedly along a deck railing, with lots of "What's that?" and "It's headed this way!" comments.






There is indeed a disturbance in the water, and it is heading for the ship.






The helmsman yells "Watch out! It's going to hit us! Ahhh!" as something large and black bashes the ship, capsizing it. A massive whale's tail briefly breaks the surface of the water, and then it's gone.






Now we see a long bridge, dense with traffic, spanning a section of the harbor nearer to the city. The whale surfaces beneath the bridge, and with a sweep of its tail, it smashes the bridge in half, sending cars plunging into the water.






But its work is not yet done. Leaving the wrecked bridge behind, the whale charges and collides with an oil tanker docked at a harborside refinery.






A massive explosion obliterates the tanker, and then fire spreads throughout the refinery, causing yet more explosions, and more fire. Now, the whale moves off, sailing past its handiwork –the mangled and wrecked bridge- one last time.






Now we are up in the dark sky's clouds, and the sound of a small single prop plane looms nearer. It's Ken!

"After a long day on the job as a test pilot, G1 of the Science Ninja Team, Gatchaman, was on his way home from work," the narrator tells us. (Yes, earn some $$$, Ken –you have a tab to pay at the Snack J!) Suddenly, Ken sees the massive explosions and fires erupt at the refinery where the whale attacked.








On the ground, the fires are spreading into the city, and panicked, screaming people are fleeing from buildings as a massive wall of flame approaches.






"This is horrible," says Ken, and exactly at that moment, Dr. Nambu contacts him and tells him that "the suspension bridges over Strait F and the petrochemical complexes along it have been destroyed." Ken tells Dr. Nambu that he's flying over it right now, only to be informed by the Doctor that eyewitnesses have reported that the destruction was caused by a giant whale.

"A giant whale?" says Ken, "You mean to tell me Galactor isn't behind this?"

Dr. Nambu isn't sure, but he wants Ken to "gather the Team and launch the God Phoenix!" Ken banks his plane 180 degrees (oh, that would make me feel so ill…) and transmutes.
No stock footage of the Team linking up in this episode –the God Phoenix is flying low over the sea, in daylight now, and everyone is on the bridge.

Hey, no exposition from an on-screen Dr. Nambu this time? Jinpei, Ken, Joe and Jun briefly discuss the reported whale attack, and all agree that the whale must have been mechanical, not real, and that Galactor must be behind it. So, they fly on.

Now, we see a pod of whales swimming along in the sea, all keeping the tops of their heads out of the water (I don't think that's how whales usually swim). Animal-lover-Jinpei spots the whales first. Everyone goes up to the main viewscreen to take a look.






Jun notes that the whales are real, not mechanical, and Ken notes that they're all frantically swimming towards something. (They'd get there faster, too, if their heads weren't sticking up out of the water.)

Ryu suddenly remembers that whales are able to use their heads like radar (Okay, I get it now) and Joe says that the whales must have found something. Ken decides that they should descend the God Phoenix to the water's surface, and follow the whales.

Now, the narrator tells us that whales are indeed sensitive to certain sounds, "such as very high frequencies," and that this compensates for their poor eyesight. Is this even true? Considering some of the things this show passes off as "science," I'm a little dubious.

Nothing wrong with Joe's eyesight, though. "Hey, look over there! There's a gigantic whale coming to the surface!" he says. Now Ken realizes that this is what the other whales are all heading towards, and declares they will "proceed with extra caution."

A periscope briefly protrudes from the back of the gigantic whale, and studies the God Phoenix before retracting. As the God Phoenix flies quite low overhead, the whale fires two missiles at it. Ryu must have damned good reflexes, because the God Phoenix instantly swerves and flies off, and the missiles miss.

Ken wants to get close to this missile-firing whale again, though. We can see that it has almost reached the pod of real whales, and now Jinpei, getting a good look, yells "That's not a whale, that's a sub!"






And now comes the part I hate…

The sub brutally bashes all the real whales at high speed, and leaves them all dead, floating belly-up, in the sea as it sails away.







A baby whale, that escaped getting bashed, now swims up to one of the dead adult whales, nuzzling it.






On the bridge of the God Phoenix, Ken says in dismay, "I guess that little one was its child." Jinpei, however, is teary-eyed and distraught (I'm with you, kid!) and he says "And now he's become an orphan too."






Joe, rather callously, remarks "Well sorry, Jinpei. We don't have time for sympathy."

"He's right," adds Ken, a little more kindly, "We have to go after that whale sub right away."

"Fine, then I'm going to get revenge for that baby whale!" declares Jinpei, his face twisted grimly.






But, now Jun and Ryu see that a bunch of killer whales have arrived on the scene of carnage.






Jinpei is immediately horrified that they will likely eat the baby whale.

"We have to help!" he wails.






"Don't be ridiculous!" snaps Joe, "We're in the middle of a mission here!"

"Don't you feel sorry for him?" pleads Jinpei, "He survived and now he's going to die! Please!"

"You idiot," says Joe, "We have to defeat Galactor first."

"That's not fair," sobs Jinpei, really crying now, "Whales are living creatures too. Joe, you're a jerk! You don't understand what it's like to be an orphan!" With that, he runs off the bridge, ignoring Ken's "Jinpei, wait!"

When this episode first aired, no one watching would have known about Joe's background yet, or about what he's going to do in episode 20; but if you do know… The writers are making some pretty big allusions with this scene.

Jinpei leaves the God Phoenix, flying in his helico buggy.

"That stupid kid, what is he going to do with that bean-sized tank?" demands an aggravated-sounding Joe, but then he says "Kennn?"

Ken nods and says "I can dig it, Joe." Hee, these two understand each other so well sometimes.

So now, the killer whales are enjoying a feeding frenzy among the dead whales as Jinpei's helico buggy nears.







The baby whale is swimming for his life, though (with his head sticking out of the water), with killer whales in pursuit.






A determined-looking Jinpei circles over the pursuing killer whales, and then drops a net from his now-open buggy to ensnare them.






"Now I've got ya!" gloats Jinpei, but one killer whale has evaded the net, and it leaps for Jinpei inside his open buggy.






Even as he goes "Aughh!!" a gunshot is heard, and the whale breaks off its lunge abruptly to drop back to the sea. Jinpei looks up then to see the God Phoenix hovering near his buggy, and on the open dome stands Joe, in a nifty hero pose.






He's looking grim, but Jinpei waves happily to him, "Joe!" and then Joe actually cracks a smile, looking like he's trying but failing to maintain his stern and callous façade.






You'd better apologize for calling him a jerk, Jinpei! See –he cares, about the baby whale and about you!

Now it's night again, and the God Phoenix is cruising through a dark sky. Up on the God Phoenix's dome, it's half filled with water, and also contains Jinpei, and the baby whale too.






Yup, in one episode he's gone from a pet beetle to a pet whale. But, the narrator informs us that they're taking the whale back to the Crescent Coral Base, and that they intend to release it at an underwater farm. Jun is, no doubt, relieved.

"You fools! What's the meaning of this?" yells Dr. Nambu, at the Base.







Ken, Jinpei and Ryu all look guiltily at the floor, and as the "camera" pans to the side, we can also see a very distressed looking Jun. Joe, however, is defiantly unrepentant.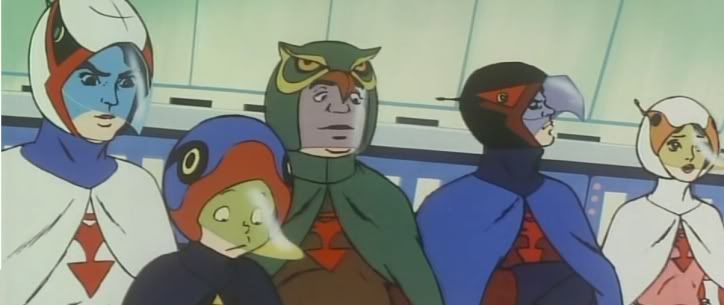 "Just what do you think is your duty as the Science Ninja Team? How can you lose track of such an important enemy just to save a baby whale? Listen, Science Ninja Team, while you were busy meddling with those killer whales, I have been receiving horrifying information from all over the world."

Yes, it seems they really screwed up. But, I can't really blame them. Dr. Nambu, however, sure can.

"I have received numerous reports of giant whales that have been attacking ports and ships around the globe!"

Ken pulls himself together and crisply asks if these whales were also subs. Dr. Nambu suspects they are, but says there's been no confirmation, and that surveillance photos can't distinguish between real whales and whale subs, so they're at a loss.
Again, in a crisp and precise voice, Ken asks if it can be assumed that the subs' only objective is to attack ships and ports. Again, Dr. Nambu doesn't know for sure, "because we lost our only lead today, thanks to you guys!" Ken's, Jinpei's and Ryu's heads droop guiltily again.

Dr. Nambu then tells them that he's taken the baby whale and released it, but that he attached a tracking beacon to the baby whale first.







He hopes to "take advantage of the whale's natural abilities," saying "I'm sure he can get us some kind of a lead." Here, the "camera" pans to the side again and we see Joe turn to glare at Dr. Nambu as he adds "Who knows, he may turn out to be more useful than all of you guys." Even Ken and Jinpei looked rather ticked at that remark.

Now we see the whale mecha swimming (far below the surface!) through a dark sea, and a ways behind him is the baby whale, following (with a little disk-shaped beacon on the front of his head).

Back at the Base, everyone is gathered around a radar screen, where the baby whale's location is now detectable. He's in the mouth of a river, in an area of desolate and unpopulated ice fields. Ken and Dr. Nambu conclude this is a likely area for a Galactor base, and Dr. Nambu points a very long finger and says "Go, Science Ninja Team!"






Oh, and he prays for their success.

The team runs down a corridor to the God Phoenix, enters through its dome, lets the docking bay flood with water and heads on its way to (as the narrator informs us) "an icy region near the Arctic Circle." The baby whale is shown briefly, swimming at the surface again, and surrounded by chunks of ice in the water.

Commercial break!